Tepotinib tablets are an oral MET inhibitor. Preclinical data show that Tepotinib can overcome the acquired resistance to EGFR-TKI due to abnormal MET activation, and theoretically improve the efficacy of patients with MET-positive EGFR-TKI-resistant NSCLC.

Note: MET positive generally refers to MET overexpression and / or MET gene amplification
Wherein MET overexpression is defined as immunohistochemistry IHC 2-3+;

MET gene amplification is defined as in situ hybridization (ISH) detection of gene copy number (GCN) ≥ 5 and or MET / CEP7 ≥ 2.

.Tepotinib clinical progress
1.2018 ESMO Annual Meeting:

A phase II clinical study of Tepotinib combined with gefitinib in the treatment of MET-positive, EGFR-TKI targeted therapy for advanced Asian non-small cell lung cancer was reported.
The results showed that the median progression-free survival of patients with MET immunohistochemical IHC 3+ was 8.3 months; the median progression-free survival of patients with MET gene amplification was 21.2 months, and patients with MET IHC 3+ received Tepotinib+ The ORR (Objective Response Rate) of the treatment with fentanyl was 68.4%, and the ORR of MET gene amplification treated with Tepotinib+gefitinib was 66.7%.
2.ASCO Report of 2019:

(1) A phase II randomized double-blind clinical trial comparing Tepotinib with gefitinib and chemotherapy for patients with relapsed EGFR mutant NSCLC with MET overexpression or MET amplification.

This study included 55 patients with EGFR-targeted therapy, EGFR mutations and T790M-negative, MET-positive but no MET-targeted advanced non-small cell lung cancer, and the experimental group treated with Tepotinib+gefitinib (T+G) The control group was treated with pemetrexed + cisplatin or carboplatin.

Clinical data showed no significant difference between Tepotinib and gefitinib in treatment with median PFS (without progression-free survival) (4.9 months vs 4.4 months), whereas subgroup analysis showed MET immunohistochemistry (IHC) The median PFS of patients with 3+ was 8.3 months; the median PFS of patients with MET gene amplification was 21.2 months, both far exceeding the 4.4 months of chemotherapy. In MET-positive patients, the ORR was also significantly higher. Adverse reactions: The test group Tepotinib combined with gefitinib was well tolerated, and the severity of most adverse reactions was mild to moderate, and overall controllable.

(2) The Phase II study of Tepotinib for MET14 exon mutation NSCLC (VISION study) was also reported at the 2019ASCO Annual Meeting. research shows: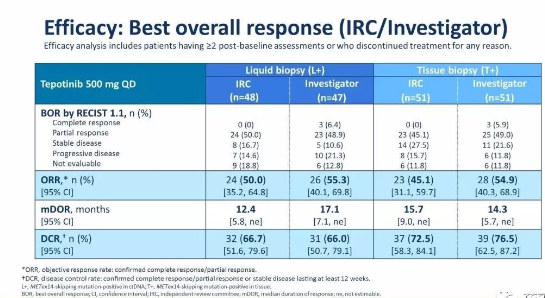 Tepotinib has a significant efficacy and a long DOR (Duration of Overall Response) for NSCLC patients with MET14 exon mutations, regardless of the number of patients treated.